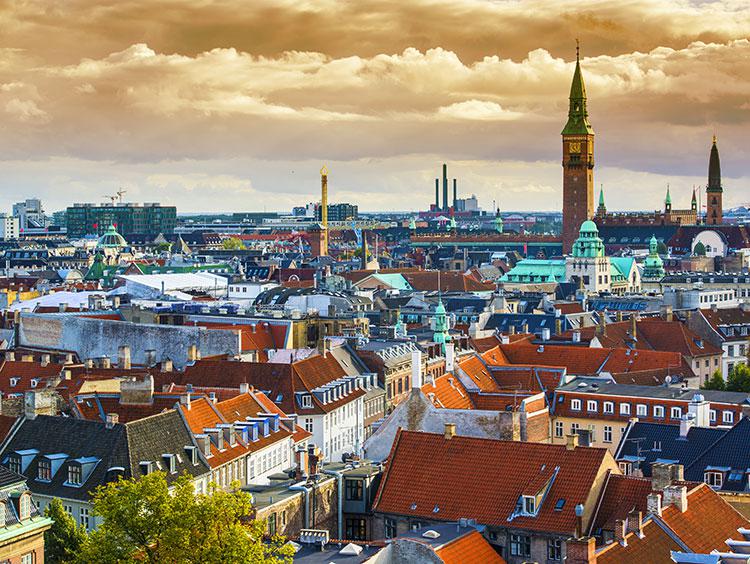 aerial view of the skyline of Copenhagen, Denmark
---
Copenhagen, near the Øresund strait   .
---
---
Copenhagen has cut CO2 emissions by about 40% since 2005, and is on a four-part mission, including 100% renewable energy (100RE), to achieve carbon-neutrality: Copenhagen's 2025 Climate Plan. This Plan includes: a 100RE goal, energy efficiency and waste reduction goal, green mobility goals, and a strategic implementation of the aforementioned goals by having city government lead first in all sustainability goals. Copenhagen's over-arching goal is to become a 100% carbon-neutral capital by 2025.
Copenhagen is expanding the use of, and investing in, all types of renewable energy. One particularly innovative citywide measure involves the creation of a renewable energy source, biogas, from household sewage.  Copenhagen's sewage treatment plants separate biomass fluids with potential to create  biogas from household wastewater. Next, the plants treat the potential renewable energy source, filtering potential biogas sources to remove ammonia, sulfides, and other toxic elements found in sewage. Then, the biogas source left over is converted entirely to methane through gasification, and is mixed with natural gas from other sources in Denmark to produce gas for the city. Among other uses, like heating, a substantial amount of cooking in Copenhagen uses this renewable energy gas source.
Denmark is one of the first countries in the world that implemented an environmental law, and since then, the environment has become one of the priorities of city planning. At present, Copenhagen is powered by renewable energy, mainly wind energy (and offshore wind farms), solar, and some fossil fuel sourced energy. The city of Copenhagen plans to replace its coal plants with biomass, as well as add to the existing sustainable energy resources in the city. The share of renewable energy as a source of energy in Denmark is projected to increase, as energy consumption in Denmark from coal and gas continues to fall (as illustrated in the following chart).
Copenhagen also has the largest heating network in the world where waste heat from power plants is utilized to keep buildings warm with district heating. In addition, water from the city harbor is utilized to cool various buildings in the city, such as office buildings, data centers, hotels, and department stores, adding to the environmentally-friendly nature of HVAC in buildings throughout Copenhagen. Copenhagen requires all new buildings in the city to conform to strict green building standards, in striving for reducing heat and electricity consumption, and increasing the energy efficiency of, commercial and residential buildings.
The country of Denmark has proposed to ban the sale of new diesel and gas cars from 2030 on, in an effort to promote electric vehicles. City officials in Copenhagen are trying to improve public and mass transport systems in Copenhagen, and at the same time, promote the use of bicycles as a means of traveling from one place to another. Cycling is already as popular as car use in Copenhagen, but the city sees cycling as becoming the dominant form of transit. They also want to reduce the use of private cars.
In general, Denmark already has substantial renewable energy and green transport infrastructure in place. The city's rail, airport, and suburbs are connected to the center via the metro system. The bus fleet in Copenhagen is being converted to run using biofuel, and the city hopes that by 2025, most of the vehicles used in the city run on hydrogen, electricity, bioethanol, and biogas. Denmark is getting 200 hydrogen buses as part of the EU's big push for hydrogen buses, the H2BusEurope program.
The city council of Copenhagen hopes that the majority of travels will be done by foot, public transit, or bicycles by 2025. The city is relatively small, and that's why it is easy to use a bike to get around. Plus, the city provides safe bike lanes that are separated from road traffic. Copenhagen has installed green wave traffic lights and constructed new bike lanes, as well as improved current ones. At present, 35% of people use their bikes to go to work or school in Copenhagen.\Visitors can use one of the free city bikes that have been offered all across Copenhagen in the city's bikeshare program since 1995.
Copenhagen Public-Private Green Initiatives
Copenhagen has several public-private partnerships that have helped with its sustainable employment and eco-innovation. The city works with universities, organizations, and companies to develop and improve green growth. During the past decade, the city invested in making the harbor area as clean as possible. Cleaning the harbor has allowed Copenhagen to create jobs, generate revenue, and improve local business life. These are just some of the benefits that the city got through its sustainable initiatives.  Today, people can swim in the harbor, which has crystal clear water.
Aside from the swimming spots in the harbor area, Copenhagen has various beaches that include the long white sands of Amager Beach. North of the center are the popular beaches of Hellerup Strand and Bellevue Strand. Part of the success that Copenhagen is experiencing in terms of its green campaigns is due to the fact that city officials engage their constituents. This makes people feel that they are part of the solution. Urban green solutions have been implemented on a large scale and utilized by everyday people. The city pioneered green programs such as tax and rebates and reductions when switching to hybrids, plug-in hybrids and electric vehicles, and financial incentives to recycle plastic bottles. There's always an eco-friendly alternative for anything in the city.
Copenhagen was voted as Europe's Green Capital by the European Envi.... The city is known as a world leader when it comes to clean technology, sustainable buildings, and clean businesses. Copenhagen is dominated by green spaces, and open spaces and parks, such as the Tivoli Gardens. The city practices what it preaches and its citizens truly live in a green paradise.
Please also see the following link: "Copenhagen [aims to be the] the world's first carbon-neutral capital by 2025...." -- https://e360.yale.edu/features/copenhagens_ambitious_push_to_be_car...
---
---
Please see this article on Medium, and share it from there...thanks! https://medium.com/@gctimes333/copenhagen-bids-to-be-100-percent-ca...
---
---